Hot dip glavanized Ringlock scaffolding for construction
Ringlock scaffolding is a multi-purpose modular scaffold system which can be used for all forms of access and support structures in the building and construction industries, ship building, off-shore construction and industrial maintenance. And METEC Ringlock scaffolding consists of galvanized high strength steel modular components that are assembled together using integral wedge connectors. We can also supplied a complete range of accessories, including: steel planks, side brackets, system toe boards, stairs, ladders and reinforced ledgers.
As our all components are galvanized and built for increased safety, service life, and resistance to damage, METEC ringlock scaffolding is perfect for all types of applications and industries.
This ringlock scaffolding can accommodate up to eight connections of combined ledger and braces. Each of these connections can safely carry a load of 11.12kN (2500LBS).
However the total sum of the ledger loads must not exceed the recommended leg load for the given bracing situation.
Due to our standards and ledgers are fully welded by machine, the products are inclear, flat and seamless. In addition, Our welders are well trained by AWSD1.1 to standar dize Butt Joint welding, Semi-Auto Fillet Welding and Auto Fillet Welding.
The full production followed purchased material, cutting tubes, welding, hot dip galvanized, cleaning and packing. Each step had procedure or guidance for them.
Metec can supply full set of ringlock scaffold accessories, and your customized products are also welcomed.
Get more information, please check Component List of Ringlock Scaffolding.
Parameters of Ringlock scaffold system tubes:
Diameter: 48.3 mm
Thickness: 3.2 mm
Material: Q345 or Q235
Finished: Hot Dip Galvanized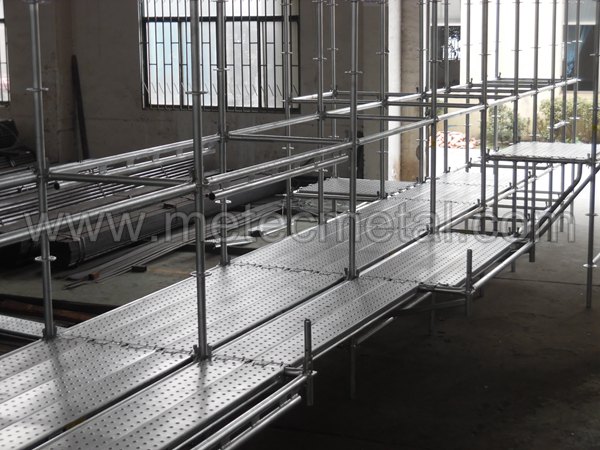 Components for Ringlock Scaffolding:
* Standards / vertical / upright
* Ledger / Horizontal/Runner
* Truss Ledger / Double Ledger
* Diagonal / Bay braces
* Clamp Brace
* Lattice Girder
* Steel Plank
* Side Bracket
* Stair
* Ladder & Bracket
* Mid-Transoms
* Screwjack/ Base Jack
To get the full list, please click Component List of Ringlock Scaffolding.